BFC Partners has acquired the former Arlington Terrace apartments, a 536-unit property in Mariners Harbor, for $75 million to develop affordable housing. (Staten Island Advance/Bill Lyons)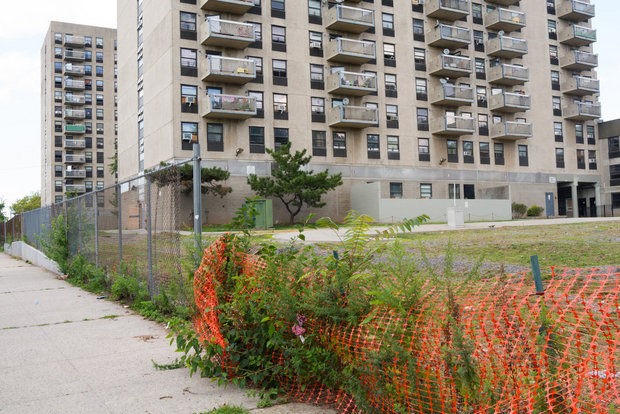 EDITOR'S NOTE: This story has been updated to clarify the nature of the firm that acquired the apartment complex.
By Tracey Porpora
December 24, 2014
STATEN ISLAND, N.Y. — A preservation firm that includes the developer of Empire Outlets in St. George, has acquired the former Arlington Terrace apartments, a 536-unit property in Mariners Harbor, for $75 million to rehabilitate the troubled apartment complex.
The apartment complex — built in 1975 under the state's affordable housing Mitchell-Lama program — has long been in disrepair.
Preservation Development Partners announced this week it had struck a financing deal with the city Department of Housing Preservation and Development (HPD), city Housing Development Corporation (HDC) to develop the project.
The firm is described as a joint venture of developers Francine Kellman, Brian Raddock, Joseph Ferrara, Brandon Baron and Don Capoccia of BFC Partners, the Empire Outlets developer.
Ms. Kellman and Raddock are spearheading the project.
"With a limited supply of affordable housing in the Staten Island area and high demand for housing in general, this project will preserve affordable housing in Staten Island and thus provide a long-term benefit to the rapidly developing North Shore community," Ms. Kellman said. "Preserving and improving New York City's existing housing stock is a challenging task that relatively few private developers are willing to accept. We are proud to be preservationists."
In August, the Advance reported that the apartments had 864 open violations. Nearly 90 of them were considered "Class C," or immediately hazardous. Those 864 violations included roach and mice infestations, peeling lead paint, broken and leaky pipes and missing smoke detectors.
The multi-family complex — to be renamed North Shore Plaza — consists of four 13-story elevator towers and four walk-up townhouse apartment buildings located on and near Holland Avenue.
"The preservation of North Shore Plaza helps to achieve the ambitious preservation goals outlined in Mayor de Blasio's Housing New York plan by extending the affordability of this development to allow existing tenants to stay in their homes without the risk of soaring rents," said Vicki Been, HPD commissioner.
According to HPD, the project includes 48 studio units, 239 one-bedroom units, 199 two-bedroom units, 26 three-bedroom units, 22 four-bedroom units, one superintendent unit, and one office unit.
"North Shore Plaza exemplifies the City of New York's commitment to preserving Mitchell-Lama housing," said Gary Rodney, president of the New York City Housing Development Corporation.
"The refinancing represents a strong investment in this Staten Island community that will provide critical renovations to the property, long-term stability, and improvements to the quality of life of over 500 families."
The project will include a significant upgrade to the roofing systems. The individual units will be upgraded with new kitchens and bathrooms.
All common areas and apartments will receive a fresh coat of paint; flooring and doors will be replaced as needed. The outdoor common areas will have a new children's play area installed, as well as landscaping, fencing, exterior lighting and state-of-the-art security cameras.
North Shore Plaza qualifies for the Rental Assistance Demonstration (RAD) program through the federal Department of Housing and Urban Development. It will also benefit from a Project Based Voucher Section 8 contract.
The subsidy will provide project-based housing subsidy to current residents whose income is below 80 percent of Area Median Income (AMI) and future residents whose income does not exceed 50 percent AMI.
"The acquisition and redevelopment of Arlington Terrace will directly improve living conditions for over 500 families, and strengthen efforts to enhance the larger Mariners Harbor community," said Capoccia. "We're pleased and excited to be able to play a small part in the future of this vibrant and diverse neighborhood."
— Advance staff writer John M. Annese contributed to this report.
http://www.silive.com/northshore/index.ssf/2014/12/bfc_partners_to_develop_xxx_un.html