The acquisition-rehab deal involves 324 New York apartments.
By Donna Kimura
Preservation Development Partners (PDP) has acquired a portfolio of five multifamily apartment complexes in the Bronx and Brooklyn, N.Y.
The Leggett Avenue Properties portfolio comprises 324 apartments—two studios, 132 one-, 145 two-, and 41 three-bedroom units. In addition, there are four superintendent units, two commercial spaces, and two antenna leases.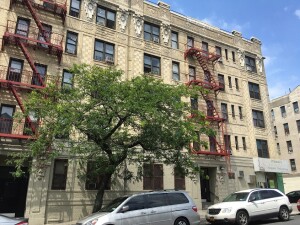 All of the properties are fully occupied and currently benefit from project-based Sec. 8 contracts. The contracts, which subsidize tenants' rental payments, will be renewed and will protect the apartments against conversion to market-rate housing for at least the next 20 years. All units will be set aside for tenants earning no more than 60% of the area median income, according to the new owners.
As part of the $60 million deal, PDP plans to invest more than $12 million, or approximately $40,000 per unit, to complete a major rehabilitation of the buildings. The firm will repair and install of new roofs, trash compactors, flooring, and facades. Individual units will be upgraded with new kitchens, including new cabinets, counter tops, and stainless steel sinks. The bathrooms will have new toilets, sinks, vanities, and shower bodies installed.
The firm is a joint venture of developers Francine Kellman, Brian Raddock, Donald Capoccia, Joseph Ferrara, and Brandon Baron.
"All rehabilitation work will be done with the tenants still in place, avoiding any unnecessary relocation costs that are typically associated with work of this caliber," said Kellman in a statement. "Upon completion of the scheduled rehabilitation work, the project will provide comparable or better quality housing than other housing in the market area."
Construction is expected to be completed in summer 2017.
The acquisition was financed with 4% low-income housing tax credits (LIHTCs) and tax-exempt bonds, credit enhanced by Freddie Mac through its LIHTC Mod Rehab program.
"The purchase and rehabilitation of the Leggett Avenue properties through the use of tax credit equity and the benefit of Sec. 8 subsidies will eliminate the risk of 324 affordable housing units in Bronx County and Kings County, N.Y. from converting to market-rate units," Raddock said. "With a limited supply of affordable housing in the New York City area and very high demand for housing in general in the region, this project will provide a long-term benefit to the community."
The seller was not disclosed.
PDP is a partnership formed by K&R Preservation and BFC Partners. The company has purchased and rehabilitated eight properties in New York and New Jersey.