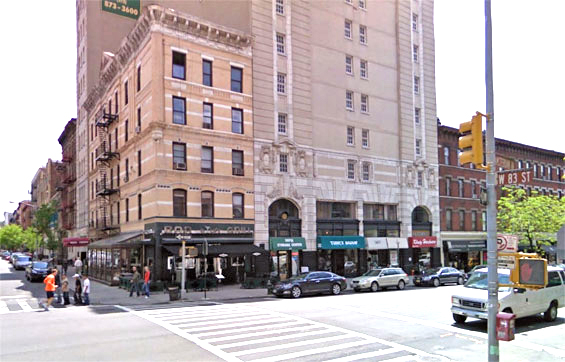 Pair of Garment District buildings sell for $37.3 million
BY REW
GFI Realty Services, LLC announced the $37.3-million sale of two office buildings in Manhattan's Garment District. Located at 40 West 38th Street and 144 West 37th Street, the properties total approximately 27,000 square feet and include an additional 18,000 square feet of buildable space.
Jermaine Pugh of GFI Realty represented the buyer, while Sylvia Spielman of GFI Realty represented the seller. The sale price equates to approximately $1,400 per square feet.
"The prime location and buildable portion of these properties presented the buyer, who is already well-established in the Garment District, with a unique opportunity," said Pugh. "This transaction is a testament to the strength of office product in the neighborhood, which has experienced substantial rent growth as a result of the continued demand."
In the heart of Midtown, the Garment District was once characterized by its high number of fashion companies. In recent years, the area has become for TAMI and creative office tenants. Current tenants of 40 West 38th Street include co-working company The Productive and Painting Lounge, while 144 West 37th Street is home to the New York Real Estate Education Center.
"The seller, a long-term owner of this property, has shifted his current focus to new development opportunities in emerging neighborhoods in Manhattan," said Spielman.
–
Cushman & Wakefield
Upper West Side turn-key mixed-use building a hot property
A mixed-use building at 477 Amsterdam Avenue traded in an all-cash transaction valued at $17,100,000 which equates to approximately $1,800 per square foot.
The property is located on the corner of West 83rd Street and Amsterdam Avenue on Manhattan's Upper West Side Central Park West Historic District.
Cushman & Wakefield's Hall Oster, Teddy Galligan, and Bryan Smadbeck exclusively represented the seller, 477 Amsterdam Avenue while Dylan Pichulik of XL Real Property Management represented the purchaser, Herlien Amsterdam LLC.
The five-story building contains approximately 9,500 square feet and sits on a 25' by 80' lot, featuring over 100' of frontage along a busy retail strip. It is comprised of eight residential apartments and two commercial units.
Seven of the apartments are free-market and one is rent-stabilized. Building features include a luxurious lobby, impressive ceiling heights, and newly renovated units with hardwood floors, recessed lighting, marble countertops and stainless steel appliances.
"477 Amsterdam Avenue drew tremendous interest and competing bids from investors seeking a turn-key investment featuring both strong cash flow and long term upside," said Cushman & Wakefield's Hall Oster.
The property can be conveniently accessed via the 1 and 2 train lines at the 79th Street and 86th Street train stations.
–
Preservation Development Partners
Five-building portfolio bought by joint venture
Preservation Development Partners, a joint venture of developers Francine Kellman, Brian Raddock, Donald Capoccia, Joseph Ferrara and Brandon Baron, announced the acquisition and rehabilitation of The Leggett Avenue Properties, a portfolio of five multifamily apartment complexes in the Bronx and Brooklyn.
The portfolio comprises 324 apartments which include 2 studios, 132 one bedrooms, 145 two bedrooms and 41 three bedrooms. Also, there are 4 superintendent units, 2 commercial spaces and 2 antenna leases.
All of the properties are fully occupied and currently benefit from Project Based Section 8 Contracts (HAP Contracts). The Section 8 Contract, which subsidizes tenants' rental payments, will be renewed and will protect the apartments against conversion to market rate housing for at least the next 20 years. All units will be set-aside for tenants earning no more than 60% of "AMI" (Area Median Income).
In addition, Preservation Development Partners will invest more than $12 million, or approximately $40,000 per unit, to complete a major rehabilitation of the buildings. The new owner will repair and install of new roofs, trash compactors, flooring, and facades. Individual units will be upgraded with new kitchens, including new cabinets, counter tops, and stainless steel sinks. The bathrooms will have new toilets, sinks, vanities, and shower bodies installed.
Construction is expected to be completed in summer 2017.
The Leggett Avenue Properties' acquisition by Preservation Development Partners was financed with tax-exempt bonds, credit enhanced by Freddie Mac through its LIHTC Mod Rehab program. The project will also be capitalized with equity from an investor in the project's "4 percent" low income housing tax credits.
The seller was not disclosed.
–
Margules Properties
Woodhaven multifamily rental sells for $12.6 million
New York-based real estate investment firm Margules Properties, Inc. announced they have purchased a 60–unit multifamily rental building for $12.6 million.
The six story elevator building at 86-50 77th Street (off Jamaica Avenue) in Woodhaven, Queens, is 55,000 square feet. It was built in 1928.
Woodhaven Realty, LLC was the longtime owner and seller.
Eastern Union's Uri Shoshana arranged the mortgage for Margules Properties and Eastern Consolidated's Ronda Rogovin was the commercial broker on both sides of the sale.
This is Margules Properties' second large elevator building in Queens. The other is on Judge Street in Elmhurst.
"We plan to upgrade the building's common spaces and renovate apartments when they vacate," said Margules Properties President Eric Margules, who explained that the purchase was a good value-add play since building rents are below market.
The building is located two blocks from the subway, 37 minutes to Manhattan in a bustling neighborhood of Queens.
–
DNA Development
Development firm breaks into Manhattan market with two buys
DNA Development LLC announced the recent purchase of 346-350 West 71st Street on the city's Upper West Side, and 12 West 48th Street in Midtown at Rockefeller Center.
"We've had our eye on Manhattan for a while now, and we were waiting for the right opportunity," said Alexander J.A. Sachs, partner at DNA Development. "We had been tracking several off-market deal opportunities directly with owners when these two unique and differentiated opportunities became available to us."
With DNA's most recent Brooklyn project, 280 St. Marks, nearly sold out – only two units remain since sales launched in November – the team was eager to extend their development expertise to Manhattan with the purchase of 346-350 West 71st Street, two adjacent, seven-story buildings totaling approximately 72,000 square feet. Located on a historic block between West End Avenue and Riverside Boulevard, the buildings will be converted into one condominium with 38 units.
"We wanted to continue with the design concepts and thoughtful touches we incorporated in our Brooklyn projects and evolve those ideas with our new Upper West Side venture," said David Berger, partner at DNA Development who also lives in the neighborhood. "In both markets, home buyers place an emphasis on livable spaces, proximity to parks, excellent transportation, good schools, restaurants and notable retailers. These buildings are two blocks from Riverside Park, four blocks from Central Park and two blocks from the 2 and 3 express trains at 72nd and Broadway, making this project perfect for our next residential development in Manhattan."
"Location was also key for us when choosing DNA's first ground-up commercial project," said Sachs.
Six days prior to the acquisition of 346-350 West 71st Street, DNA purchased 12 West 48th Street directly from the owner in an off-market transaction. Directly across the street from Rockefeller Center, the now vacant parking garage will be demolished and replaced with a purpose-built luxury retail space. Located just off Fifth Avenue and at the southern end of Rockefeller Plaza, the building will be ideally located for a retailer looking to move into a new home.
"We entered Brooklyn in two hot spots, Prospect Heights with 280 St. Marks and Park Slope with our 343 Sixth Avenue project, and we wanted to do the same thing in Manhattan," added Sachs. "The Upper West Side and Rockefeller Center are two thriving areas, and we are confident that New York real estate will continue to be all about location, location, location."
–
Cushman & Wakefield
Hazelwood Portfolio in Greenpoint sells for $6.25 million
Cushman & Wakefield has just announced the sale of The Hazelwood Portfolio on behalf of the Hazelwood Family.
The package is comprised of four retail-driven assets in Brooklyn's Greenpoint neighborhood. 730 and 644 Manhattan Avenue, totaling 15,000 square feet of development rights, were recently sold to AGMINE Corp. in an all cash transaction valued at $6,250,000 or at $416 per buildable square foot.
AGMINE earlier acquired 760-764 Manhattan Avenue in all-cash transaction valued at $11,000,000 for an in-place 4.3% capitalization rate and approximately $709 per square foot.
Cushman & Wakefield's Brendan Maddigan exclusively handled both transactions.
"The metrics of this deal highlight the increasing value of space along Greenpoint's key retail corridors," said Brendan Maddigan.
730 Manhattan Avenue is a 2,500 square foot lot currently improved by a three-story mixed-use building with development potential. The building currently consists of two free-market apartments above a vacant retail store and offers approximately 7,500 square feet of buildable space as-of-right. Similarly, 644 Manhattan Avenue is a 2,500 square foot lot that currently holds a two-story mixed use building with development potential. It also offers approximately 7,500 square feet of buildable space as-of-right.
The properties are ideally located along one of Greenpoint's main retail corridors and benefit from close proximity to the neighborhood's premier dining and shopping options. A number of transportation hubs are easily accessible including the G Train Station at both Nassau Avenue and Greenpoint Avenue and the East River Ferry at India Street.