New York
10/7/16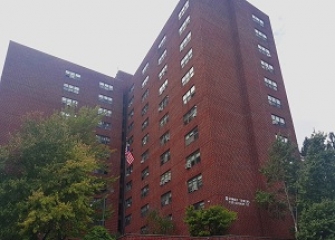 Preservation Development Partners, a joint venture of developers Francine Kellman, Brian Raddock, Donald Capoccia, Joseph Ferrara and Brandon Baron, announced today the acquisition and $10 million rehabilitation of Summit Towers, a 183-unit senior living complex located at 720 Albany St., in downtown Schenectady, NY. The seller was not disclosed.
Ms. Kellman, co-principal with Mr. Raddock of Preservation Development Partners, said, "We believe in not only preserving affordable housing necessary for seniors in the region, but providing housing with amenities and services for seniors that go beyond the basics. Summit Towers will become a model for senior housing in the Capital District."
At a cost of approximately $40,000 per unit, the renovation of Summit Towers will include new kitchens, bathrooms, countertops, appliances, cabinets, and windows. The common space in the lobby and community rooms will be renovated as well. The windows will be replaced throughout the entire building, along with the installation of cameras and security equipment. The elevators will be upgraded and the hallways will be painted. The roof will be replaced. The exterior will feature new landscaping and renovated parking areas. The building's heating, cooling and electrical systems will also be upgraded or replaced.
The building currently receives a project-based Section 8 subsidy through the federal HAP program, and will also benefit from a 30-year PILOT agreement from the City of Schenectady IDA, which is administered by the Schenectady County Metroplex Development Authority. The acquisition was financed through the use of Tax Exempt Bonds and 4% as-of-right Tax Credits.
Summit Towers is located one block from downtown Schenectady which has been revitalized with more than $500 million in new investment. Mr. Raddock said, "The PILOT agreement and the benefit of project-based section 8 will eliminate the risk of 183 affordable housing units in the Capital District of New York from converting to market rate units. With a limited supply of senior affordable housing in the Capital District of New York and very high demand for senior housing in general in the region, this project will preserve affordable and thus provide a long-term benefit to the community."
All rehabilitation work will be done with the tenants still in place. During the day contractors will have access to units and perform the needed work. The renovations take place in multiple phases. For example, all bathroom work for a unit would begin at the start of the day and be completed before day's end, with any kitchen work being performed on the next day. This allows for the tenants to remain in their units and avoid any unnecessary relocation costs that are typically associated with work of this caliber.
Upon completion of the scheduled rehabilitation work the project will provide comparable or better quality housing than other housing in the market area.
Anthony Jasenski, Chairman of the Schenectady County Legislature said, "The County is excited about the plans for a newly renovated Summit Towers. After this $10 million investment, Summit Towers will be a great place for seniors to live just a few blocks from the heart of our revitalized downtown."
Mayor Gary McCarthy said, "We welcome plans to rejuvenate Summit Towers providing a quality housing option for seniors in Schenectady while adding to the development momentum on Albany Street."
Preservation Development Partners is a partnership formed by K&R Preservation and BFC Partners. K&R is owned and operated by its principals Francine Kellman and Brian Raddock. Since the inception of Preservation Development Partners the company has purchased and rehabilitated 8 different properties, in New York City, Spring Valley, New York and East Orange, New Jersey totaling 2,411 low-income units. Properties in the portfolio include the East River Apartments, a 179-unit multifamily apartment complex in East Harlem, Albert Goodman Plaza, a 252-unit rental complex and four-building property located in The Bronx, the Surrey Carlton Apartments, a 176-unit rental complex located in Spring Valley, New York, Trinity Apartments, a 75-unit multifamily complex located at 2105 Daly Avenue in the Bronx, Sinclair Houses, an 81-unit rental complex located at 502 and 528 West 151st Street in the Hamilton Heights section of Manhattan, North Shore Plaza, a 536-unit multifamily Project in Staten Island located at 35 Holland Avenue, a 876-unit NYCHA Portfolio scattered throughout the Bronx, Brooklyn and Manhattan and a 236-unit senior living complex called Oakwood Towers in Essex County, NJ located at 400 Oakwood Avenue.
See more at:
http://newyork.citybizlist.com/article/380274/preservation-development-partners-acquires-a-183-unit-senior-living-complex-in-schenectady-ny#sthash.VP01VjfH.dpuf