By Paul Nelson | April 6, 2017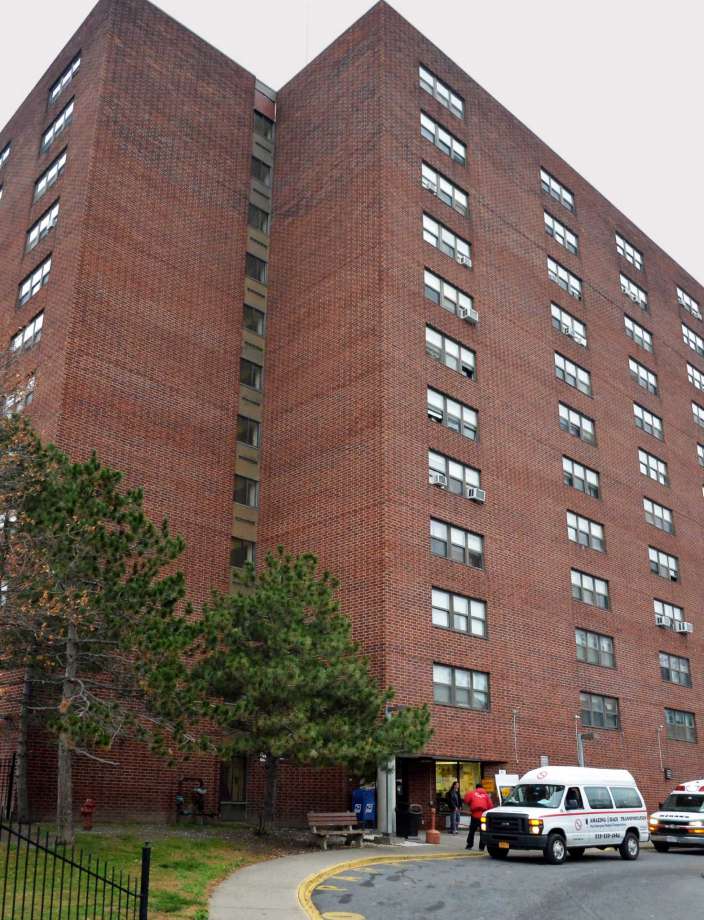 Mary Ann Bruno isn't afraid to leave the front door to her apartment at Summit Towers wide open even when she ventures upstairs to see another tenant.
"People just feel lighter," she said recently summing up her feelings about the safer environment at the once trouble-plagued U.S. Department of Housing and Urban Development-subsidized high-rise.
Her friend, Santa Melendez, who also lives at Summit Towers, said the apartment building is a "much better."
"Everything is all right," Melendez said of the 183-unit structure on Albany Street on the edge of the Hamilton Hill neighborhood.
The two women were among a group of residents who complained to the Times Union last year about problems in the building – including prostitution and drug dealing – that made life their miserable for tenants.
A lot has changed since then.
The building on the corner of Albany Street and Summit Avenue was purchased by Preservation Development Partners, a New York City development company and the new owners are in the middle of making $10 million in improvements.
A number of other improvements have already been made. Security enhancements included adding more surveillance cameras, locking stairwells where squatters used to take refuge, and implementing a system that restricts the movement of would be troublemakers.
"The traffic has stopped," added Melendez, who has lived at Summit Towers since 2012.
On one side of Summit Towers Executive Director Barbara McBride's office, a bank of surveillance monitors shows constant footage from just about everywhere inside and outside of the high rise. The footage is also displayed on monitors at the Schenectady Police Department.
All of the 510 square-feet apartments are being upgraded with new kitchen appliances as well as vanities and walk-in showers in the bathroom. The electrical system is also being retooled.
The upgraded surveillance system allows Summit Towers staff to scan license plates, McBride said.
The new owners also plan to upgrade the building's common areas. They also plan to replace or upgrade the heating, cooling and electrical systems.
McBride conceded that most of the questionable activity still takes place after she and her staff leave for the day. The building has two employees who live in the building to handle problems that do not need police involvement.
McBride, who has 30 years on the job, complained that some of the police officers, particularly later in the day, seem like they don't like to fill out police reports. Still, she insisted that overall the police response is improving and department leaders are more cooperative.
Sgt. Jeff McCutcheon, a Schenectady police spokesman, noted that officers only write a police report if a crime is committed.
So far this year, police have responded to 50 calls at the building. Most have been quality-of-life issues such as loud music and conflicts between neighbors, McCutcheon said.
He said the number of calls reached 200 for all of 2015, and again they were primarily quality-of-life problems, some domestic-related calls, and in some cases, property checks.
"There's a lot of times, for instance, if we go there for neighbor troubles, where one neighbor just wants the police to advise the next door neighbor of an issue rather than them going to talk to them themselves," he said McCutcheon. "There's no crime so there'd be no reason for a report. "
McBride said she continues to preach to tenants about doing their part to keep the building safe.
"It's tenant education, it's pushing it, saying 'you can't allow that in the building,'" said McBride. "I think we're a thorn in the side of whatever dealer normally wants to come in. It's harder for them to get around the building. "
She recounted how needy and homeless people used to take refuge in stairwells, which are now permanently locked. If a fire alarm sounds, those doors automatically open, McBride said. She and her maintenance staff have keys and can get into the stairwells at any time.
Tenants have a key fob that allows them into the building through the front door. All the apartments are outfitted with a closed-circuit monitor that allows them to see who is at the front door. Anyone visiting the building has to be buzzed in by the tenant.
Once that happens, it sends the elevator to the ground floor, and only takes that person to the floor of the person who let them in.
Bruno, who has lived at Summit Towers for the past 15 years, said the illegal activity is "way down."
"It's come a long way and I think a lot of elderly people have found a safe haven," said Bruno.
http://www.timesunion.com/7dayarchive/article/Summit-Towers-residents-rejoice-at-changes-11053126.php