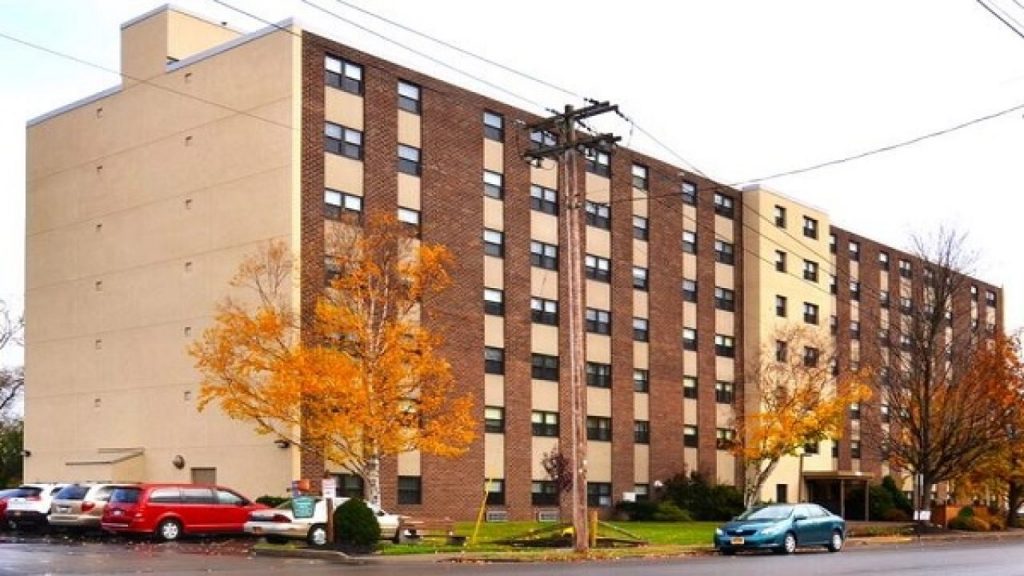 JUNE 1, 2022
K&R Preservation, a New York City-based multi-family housing development firm owned and operated by its principals Francine Kellman and Brian Raddock, announced today the acquisition of the Nathan Galinsky Apartments, an affordable rental property located at 105 Protection Avenue in upstate Herkimer, New York.
In addition to acquiring the property, K&R will rehabilitate all 111 of its one-bedroom, revenue producing units and its two-bedroom security unit at a cost of $35,000 per unit.
Constructed in 1980, the downtown Herkimer property includes significant amenities including off-street parking, on-site laundry facilities, community room, additional storage, outdoor recreational area, business center, and a resident service coordinator.
The project currently receives Section 8 subsidy through a HAP contract. The building also benefits from easy access to public transportation and major highways, as well as proximity to Utica and other metropolitan centers. The property is within walking distance from shops, medical offices, community spaces, social services and parks.
Francine Kellman, Co-principal of K&R Preservation, said, "Development in this region has increased at a high rate within recent years and many new developments are moving forward as a result of the excellent regional institutions of higher education and the benefit of the region's proximity to the state capital of Albany." She added, "While this economic development has helped local communities by providing jobs and opportunities to its residents, it has also increased the risk of affordable housing being converted into higher-priced market rate rentals. We will eliminate that risk. It is our mission."
Brian Raddock, Co-principal of K&R Preservation, said, "With a limited supply of affordable housing in Herkimer County and very high demand for housing in general in the region, this project will preserve affordable rentals and thus provide a long-term benefit to the community."
The property will be preserved and protected from conversion to market rate housing because the purchase and rehabilitation are financed through the use of Tax-Exempt Bonds issued by the Herkimer County Industrial Development Agency, credit enhanced by Freddie Mac through its LIHTC Mod Rehab program. The project will also be capitalized with equity from investors in the project's "4%" low-income housing tax credits.
The project currently benefits from a Payments in Lieu of Taxes (PILOT) program, and the developer is seeking to have the PILOT continued in order to provide "not only the affordable housing necessary for low-income seniors in the region, but housing with amenities and services that go beyond the basics."
The planned rehabilitation anticipates a 12-month construction timeline. The project will get a significant upgrade with the repair and installation of new compactors, flooring, facades, and an overhaul of the elevators. The individual units will be upgraded with new kitchens, including new cabinets, counter tops, stainless steel sinks with single lever faucets, and an additional GFI outlet. Bathrooms will have new toilets, sinks, vanities, and shower bodies installed.
Ms. Kellman said, "All rehabilitation work will be done with the tenants still in place. During the day contractors will have access to units and perform the needed work."
The renovations will take place in multiple phases. For example, all bathroom work for a unit would begin at the start of the day and be completed before day's end, with any kitchen work being performed on the next day. This allows for the tenants to remain in their units and avoid any unnecessary relocation costs that are typically associated with work of this caliber.
Mr. Raddock said, "Upon completion of the scheduled rehabilitation work the project will provide comparable or better quality housing than other housing in the market area."
About K&R Preservation, LLC
K&R Preservation is owned and operated by its principals Francine Kellman and Brian Raddock. The co-principals have a 16-year track record of working together to acquire and rehabilitate a portfolio of more than 4,000 low-income rental units comprising 13 properties in the Tri-State region. To date, major K&R properties include North Shore Plaza, a 536-unit multifamily project in Staten Island; a 876-unit New York City Housing Authority (NYCHA) portfolio scattered throughout the Bronx, Brooklyn and Manhattan; and a 584-unit senior and handicapped portfolio of buildings located in four cities within the Capital District of New York State.
https://www.citybiz.co/article/272002/kr-preservation-acquires-affordable-housing-in-upstate-new-york/